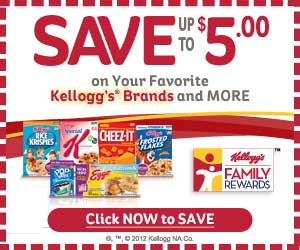 If you're a serious couponer and haven't jumped on board this ship, you need to!  Kellogg's Family Rewards has been offering some stellar coupons that are great to use at Giant Eagle and Buehlers! Just click the above banner.
We love Kellogg's Family Rewards Program!  There are some high value coupons and great rewards! 
Look for specially marked Kellogg's Family Rewards products like cereal, crackers, and snacks
Find a list of all the participating products and their point values here
Enter the 16 digit code found inside the item to accumulate points
Enter the following codes to get a good start! –

DAYORNIGHTSNACKS: (50 points)
BACKTOSCHOOL2014: (50 points)
GETFUELFORSCHOOL: (20 points)
SPIDEYEXCITEMENT: (20 points)
SPRINGONTHECOLOR: (20 points)
EARNGREATREWARDS: (20 points)
HOWITWORKS20PNTS: (20 points)
EARNSWEETREWARDS: (50 points)
KFRSHARETHANKS20: (20 points)
SNACKTIMESHUFFLE: (100 points)
NUTRITIONINABOWL: (50 points)
MAGICOFBREAKFAST: (20 points)
SOTHANKFULFORYOU: (50 points)
Redeem your points for rewards such as books, magazine subscriptions, toys and even high-value coupons.
New info from KFR:
**Once the Coupon Printing application is successfully installed, you will only be able to print the coupon once. Multiple uses, reproduction or duplication of the coupon is strictly prohibited.**
Also, be sure to check your inbox as you may also receive emails with bonus codes from Kellogg's and high-value coupons!